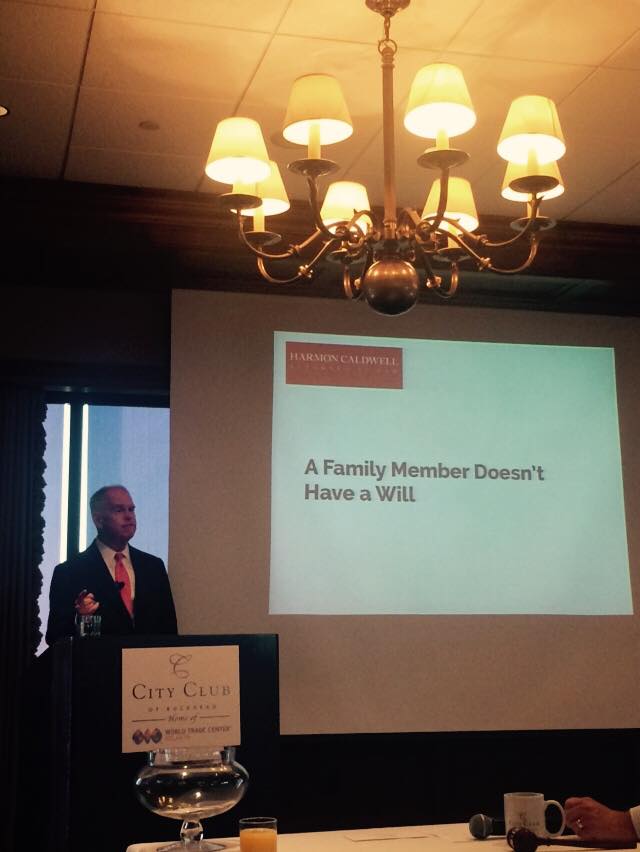 Last week, I gave an early morning presentation titled "Preserving Wealth in Times of Transition and Crisis" to the Buckhead Business Association (BBA) during their weekly Thursday Breakfasts. I talked to a group of about 40 Buckhead professionals about how to handle a few of life's transitions and crises, including:
You or a family member doesn't have a will
You need to contest a will
You're about to get married
You're about to get divorced
You're in a business dispute with a partner
I've been doing this for a long time and I can tell you that if it weren't for greed and crazy, many of these problems wouldn't exist, I would be out of a job and I wouldn't have been giving that presentation.
I've represented many wealthy families from Carlos to Chandler, from Woodruff to Rollins, and other high-profile Atlantans such as Frances "Tut" Woodruff in contesting the will of her father, Coca-Cola's Georgia W. Woodruff's. I represented Anna Stanley in her divorce from Rev. Charles Stanley. I represented Bernice and Martin Luther King III in their dispute with their brother Dexter over their mother Coretta Scott King's Estate. No matter the family or situation, the issues are often the same.
After my presentation, many peoples came up and asked questions about loved ones who desperately needed a will, friends who needed to inquire about the first steps for divorce, and more. Oftentimes, people ignore these topics until it's too late. By becoming educated, these professionals recognize what steps they needed to take to preserve their wealth.
Though discussing divorce, death, estate disputes and inheritance protection aren't comfortable topics, these topics need to be addressed so people can ensure they are preserving their wealth for themselves and their family. Don't ever underestimate human nature's ability to create havoc with the best intentions. If you don't have a plan to protect your assets, know that somebody else will.
If you would like me to speak to your group, please contact my assistant Wanda Sharretts at 404-843-4111. Based on your needs, we can hone in on a specific topic, such as wills or divorce, that your audience is interested in.