In recent blog posts, I have discussed the divorce rates if a spouse falls ill, of those in a healthcare profession, and now, those in the armed forces.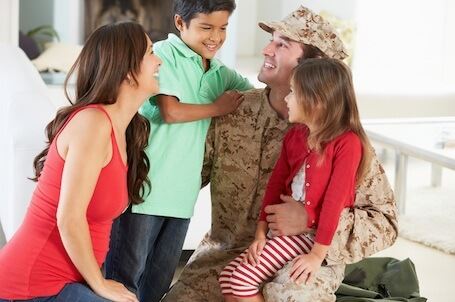 Military Divorce Rates: According to data released by the Defense Department, the military divorce rate last year was 3.1 percent, a .3 percent drop from the year prior and .5 percent lower than the civilian rate. Divorce rates among military personnel hit a high of 3.7 percent in 2011 and a low of 2.6 percent in 2001, at the start of the Iraq and Afghanistan wars. Females have been the driving force behind the decline, according to a Pentagon official.
While the male divorce rate has dropped only .3 percent since last year and .5 percent since 2011, the female divorce rate is down 6 percent since last year and down 8 percent from 2011.
The biggest drop in divorce rates was among female Marines whose rate dropped from 9.5 to 6.2 percent between 2011 and 2014. A Pentagon spokesperson reiterated that the military focuses on servicemen and women's relationship with their spouse.
"The health and well-being of service members and their families is a priority," said Lt. Cmdr. Nate Christensen, a Pentagon spokesman. "Strong relationships are important to our readiness."
Unfortunately, yet unsurprisingly, a study by the RAND Corporation released in 2013 found longer deployments resulted in more divorces. Couples were 28 percent more likely to divorce within three years if at least one spouse was deployed for at least one year to Afghanistan or Iraq, reported The Huffington Post.
The research also showed that women were less likely to divorce the following deployment than men, and couples with children were less likely to divorce. Those who were married after 9/11 were less likely to get divorced as researchers speculated, "those who married post-9/11 were better equipped to deal with the difficulties of marriage."
One Suggestion To Further Decrease The Rate: Amanda McCordindale, a former Air Force Captain currently working as a clinical psychologist, suggested to Air Force Times that "de-incentivizing" marriage for younger military personnel may further reduce the divorce rates in the military as many people may be more hesitant to get married if the benefits weren't so lucrative.
I feel that it is important to discuss divorce rates among specific demographics so people who are going through a divorce can know they are not alone ­­– that there are other people like them whose marriage has also dissolved – and so we can spot trends in one demographic that can possibly help curb divorce rates in another demographic.
If you have found yourself needing to discuss the possibility of a divorce, no matter you are demographic, never hesitate to contact me for a complimentary consultation.