If you are considering a divorce, one of the first steps you should take is to find a good attorney to represent you. If you are unclear whether you want to pursue a divorce, meeting with a qualified attorney can help answer any questions that you may have about what is involved.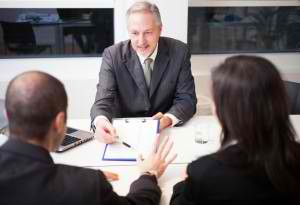 Here are a few ways to find the attorney who is right for you. The decision to seek a divorce is a major one, and you want the right person to help you through the process in order to protect you and your future.
Ask your friends for referrals. If people have been happy with their representation, they will be glad to share the names of their attorneys with you. They can also give you a first-hand testimonial of their experience.
Find someone who specializes in family law. Just as you wouldn't go to a dermatologist to operate on your knee, you don't want to ask a real estate and trust lawyer to represent you in a divorce. While an attorney may have a practice that handles other areas of the law, make sure that family law is a significant part of the practice. As I wrote in my book, Harmon Caldwell's Georgia Divorce Handbook, "You want someone who knows the trial judges and the court personnel … You also want someone who regularly handles cases in the county where you live because each county handles divorce cases a little differently." If you do know a lawyer you trust who doesn't practice family law, ask him for a referral. He will most likely have several people he could recommend.
Find someone with experience. To use my doctor analogy again, would you rather have a resident or the doctor that has decades of experience to consult with you on a major health issue? In my career, I have handled more than a thousand contested divorce cases and more than 150 jury trials. I can promise you I know a lot more now than I did when I started out 38 years ago. Someone with a significant level of experience has seen just about everything and you can have confidence in his or her ability to represent you.
Do your research. Once you've selected four or five people, check out their websites. See if there is any video posted that can give you more of an idea of what kind of person they are.
Make appointments with several lawyers. While it may seem time-consuming, this is time well spent. And many lawyers, like me, will not charge you for the initial one-hour meeting.
It's a big decision so take your time making it. You want the right partner for this next phase of your life.
Come back next week when I'll discuss how to prepare for that initial interview.