If you're considering a divorce, the holiday season certainly doesn't make the decision any easier. Many of my clients tell me they want to wait until after the holidays to file for divorce. Therefore, it's no surprise that I file more divorce cases in January, February, and March of each year than I do the entire remainder of the year. I understand the reasoning. Spouses want to keep their family "together" and not "ruin" the season.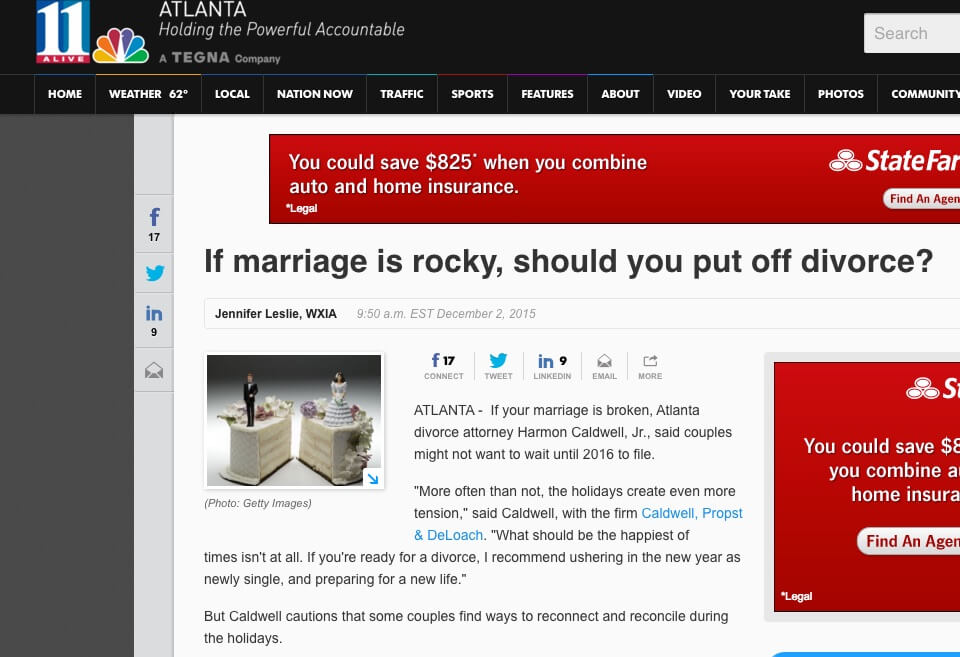 I recently shared my opinion with 11Alive on if someone should wait until after the holiday season to file for divorce:
Pros of waiting until after the holiday season to file for divorce:
The holidays can often bring people together. There is always a chance you may reconnect with your spouse and decide you don't want a divorce.
Waiting until after the holidays will allow you more time to move forward with a clear head – and without the stress and emotions of the holiday season.
If you're unsure of your financial worth, waiting until after the holidays will provide you with more time to gather and prepare comprehensive information on your assets, which include bank accounts, brokerage accounts, property, trusts, tangible valuables, retirement funds, and more.
Cons of waiting until after the holiday season:
You prolong what may become an intolerable situation.
The longer you wait, the greater likelihood of your spouse finding out about your plans for divorce. If your spouse finds out, that may give him or her the opportunity to conceal assets in which you are entitled to share, or to file a divorce complaint before you do – thereby putting you on the defensive.
By waiting, you're betting your current situation will not change for the worse. However, your spouse could lose his or her job, could fall ill or a myriad of other things that might delay your divorce filing, which could compromise your ability to obtain the best possible resolution. And it could ultimately postpone your moving on with your life.
More often than not, the holidays create even more tension and what should be the happiest of times isn't at all. If you're ready for a divorce, I recommend ushering in the New Year as a newly single and preparing for a new life.
Whether you pursue the divorce now or later, the initial, vital steps remain the same: don't talk with your spouse about your plans before talking to a lawyer and gather as much information about your assets as possible.