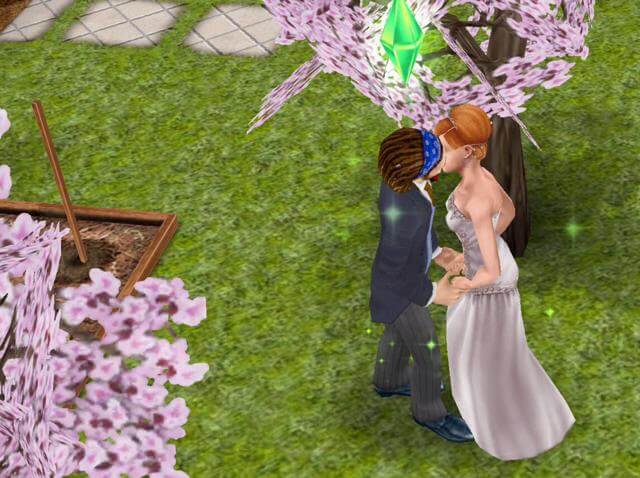 Over the years, people have developed a near obsession with understanding divorce trends. Weekly reports emerge revealing the new divorce rate, long-term studies follow couples to see "where they went wrong" and endless television shows highlight the journey of divorce.
However, one of the most unique pieces examining divorce has recently emerged. "Why 'The Sims' Have Low Divorce Rates" focuses on how video game users who play the popular The Sims only have a 6 percent divorce rate among their 93 million Sims, 34 percent lower than the U.S. average, according to the Vice News piece.
A player meets a computer-generated player, then the two go from friends to dating to marriage. There's a lot on the line in the game to get married, you receive points, but there's also a lot to lose as players forgo a significant amount of points if they choose to divorce.
People who know the game best, the designers, attribute the difference to users being more engaged in the game than individuals are in the real world.
"When you're playing The Sims, you're paying a lot more attention and trying to make it work. In real life, life takes over and you can end up with two people looking at each other saying 'how did we get here?'" said Rod Humble, the former head of The Sims Studio who worked on The Sims 2 and 3.
However, Humble also attributes part of the variance in divorce rates to the obvious – it's only a video game.
"People aren't going to get cancer," said Humble. "They're not going to have all these things in life that are particularly dark. It's an optimism simulator." He also mentions that people program their characters overly romantic and cheery, while rarely including evil or mean characteristics.
Psychotherapists also have their opinions on why Sims – and real-life couples – have a messy relationship and divorce.
"We're hearing more and more stories of couples trying to have a healthy divorce, but more often than not one person wants it (the divorce) when (the other spouse) doesn't, you might have a third party involved and infidelity," said Rachel Sussman, a psychotherapist specializing in relationships. "It can be very painful."
Sussman also extrapolates how The Sims steers people into marriage, rather than have the users think of why they want to get married, to be applicable in the real world.
"The divorce rates for second marriages are even higher than first marriages, and I think that is because people don't take the time to stop and see the mistakes they made the first time around," she said. "There's a pressure from society, to get married and remarried."
Even if a video game can't teach us much about relationships, this specific one teaches you that whether you're in the virtual world or the real world, take time to think about who you're marrying, the possible long-term consequences, and taking the time to work on your relationship.